Exploring the benefits of Homeownership over Renting 🏡
Owning a home provides a stable and predictable housing situation for your child during their college years. They won't have to worry about fluctuating rent prices or the challenges of finding new rentals each year.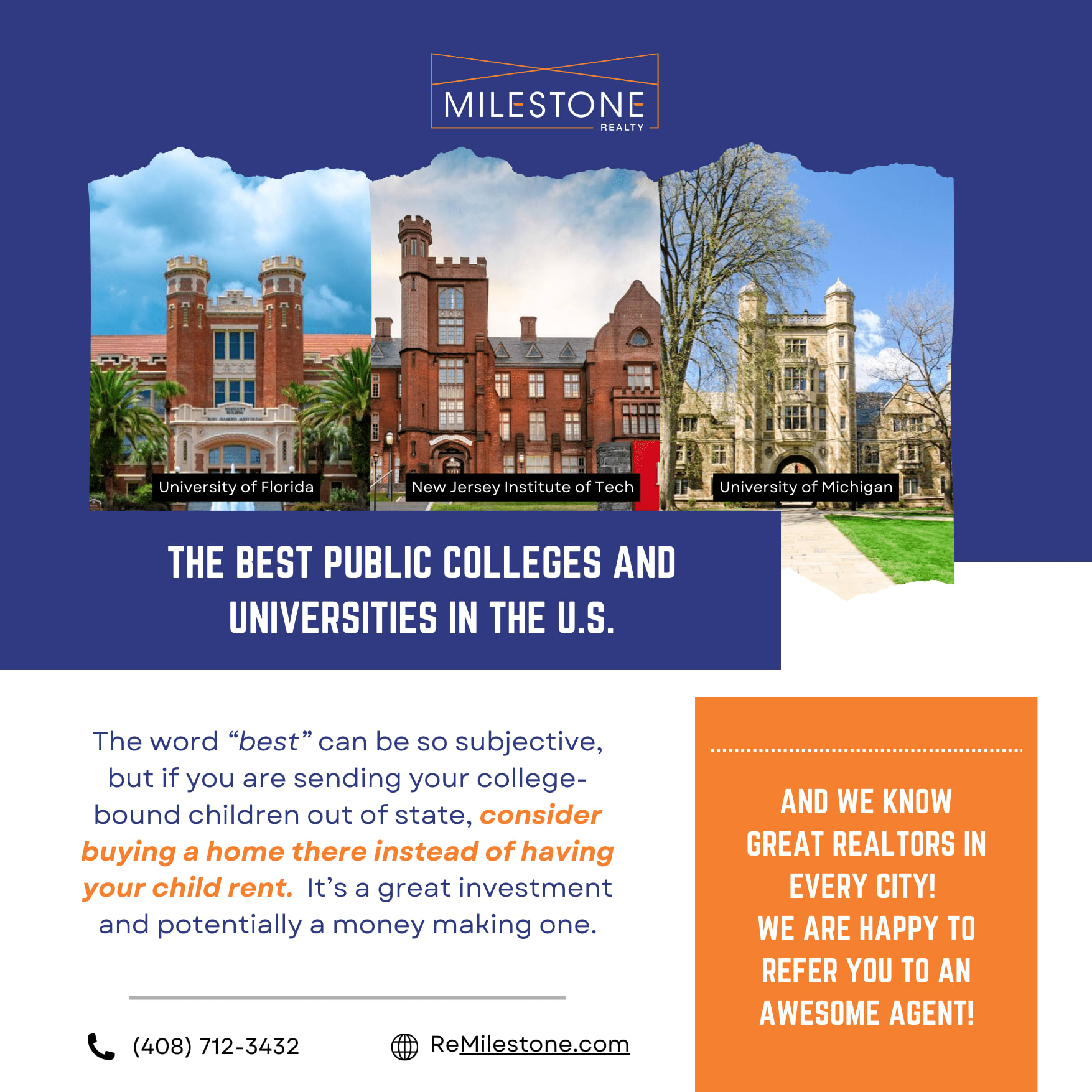 Exploring homeownership over renting for your child's college years can be a strategic financial move.
These are the 10 best public colleges and universities of 2024, according to The Wall Street Journal:

University of Florida—Gainesville, Florida
New Jersey Institute of Technology—Newark, New Jersey
University of Michigan, Ann Arbor—Ann Arbor Michigan
Florida International University—Miami, Florida
University of Illinois Urbana, Champaign—Champaign, Illinois
Texas A&M University, College Station—College Station, Texas
Georgia Institute of Technology, Main Campus—Atlanta, Georgia
The University of Utah—Salt Lake City, Utah
University of Connecticut—Storrs, Connecticut
Baruch College—New York, New York

Beyond the financial aspects, owning a home in your child's college town offers additional benefits. It provides a stable and familiar environment for your child during their college years. It can be a home away from home, a place where they can focus on their studies, build connections, and create lasting memories. Moreover, it gives you a sense of belonging in the community, allowing you to participate in college events, connect with other parents, and become part of the larger university family. The value of investing in a home for your college-bound child extends far beyond dollars and cents. When you buy a home, you're not just paying for accommodation; you're investing in an asset. If your child shares the property with roommates, the rental income from their housemates can help offset your mortgage costs. In some cases, it might even turn a profit, becoming a valuable source of income.

Involving your child in the process of homeownership can be an educational experience. They can learn about property management, maintenance, and financial responsibility.
Whether you're buying, selling, or investing in real estate, our network of top-notch realtors spans across cities. We connect you with the best in the business, ensuring your real estate journey is smooth and successful. Your dream home is just a click away. Follow us for more updates!
Get Updates from our Instagram!